From 1 June 2015, Brussels Airport - Zaventem station is fitted with gates.
Travellers arriving at, or departing from Brussels Airport - Zaventem will need to scan their ticket at the gates before entering or leaving the station.
How does it work?
Gates will open after scanning the barcode indicated on your train ticket (paper and electronic supports) or after validation of your MOBIB card. If you are travelling to Brussels Airport - Zaventem station, then you'll need to keep your ticket handy to be able to access or leave the station easily.
1. Go to a gate with a green arrow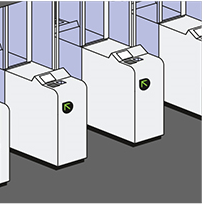 2. Hold your Mobib card in front of the reader or scan the barcode on your ticket
If you are travelling with a Mobile Ticket, please display the barcode on the screen of your smartphone or tablet.
Make sure that your screen's contrast is set correctly to ensure an optimal readability.
3. The gate will open and you're free to enter or leave the station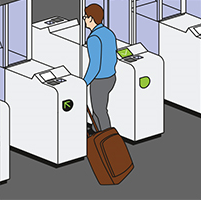 Practical info
Accompanied children under the age of 12 travel free and can pass through the gates helped by the staff present. The same applies to those carrying a national reduction card for the blind and partially sighted.
Specific gates are provided for those with limited mobility. The standard gates are regulated to allow one person through, but there is sufficient space to pass through with small objects and baggage.
It remains possible to take a connection at Brussels Airport - Zaventem station without having to pass through the gates.
We confirm that a member of
staff will be present at all times
. Our staff are available to answer any questions or in the event of a problem.
Assistance posts
are also available, fitted with a call button, allowing you to contact ticket counter staff.