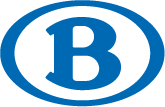 Section Season ticket Aachen: get to work every day without the holdups
A Season ticket in your name for a fixed route between Aachen via Aachen-Süd-Gr. and any station in Belgium (and the other way around)
Available in 1st and 2nd class
Valid for 1, 3 or 12 months
Can be combined with De Lijn, TEC, MIVB/STIB
Beyond 146 km you should opt for a network railcard. Then you will have access to the whole network.
Practical Information
For more details, refer to the Section Season ticket Aachen terms and conditions (only available in Dutch or French)