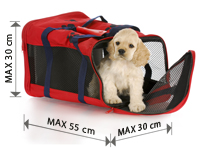 Pets are welcome on board trains on condition that it remains safe and pleasant for other passengers. For a small price, you don't need to leave your favourite companion home alone.
Take your sweetheart with you on the train
Free for small pets in baskets, cages, boxes or other sealed containers which are not bigger than the dimensions shown in the picture above
Free for guide dogs or assistance dogs
€ 3 for animals on a lead with a Pet ticket
Find all information on the Pet ticket page

Do you regularly travel with your dog or cat on a lead?
If it is always the same journey, you can purchase a 10-journey card for your pet.
If you travel with a Key Card, then you can also fill in an additional line for your pet.
Keep it pleasant for everyone
Muzzles are not compulsory for dogs, although they are recommended. However, the train conductor may request that you apply the muzzle to the dog.
Your pet is not allowed to take up space on seats or on tables, and must not cause any inconvenience for other passengers.